We established Lemongrass House in 1996 and are continually developing specialized, natural farm fresh aromatherapy, spa treatments and products at a professional and therapeutic standard for spas and salons around the world.
Welcome to Lemongrass House, award winning makers of spa and body care products!
Lemongrass House is an award winning, Thailand-based company that manufactures and distributes aromatherapy, spa and personal care products to over 50 countries worldwide and is also the supplier of choice to many of the worlds leading hotel brands such as Aman Resorts, Four Seasons Resorts and Le Meridien.
Lemongrass House is a fully registered, family owned company incorporated in Phuket, Thailand in 1997. It was founded by Bobby and Palita Duchowny, who originally made up some of the products in the kitchen of their Bangkok apartment and sold them at Bangkok's Chatuchak Weekend Market.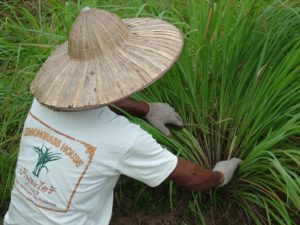 Lemongrass House originally worked alongside UNICEF producing natural insect repellents for their teams working in the field throughout South East Asia. Now we work with Thai farmers, focusing on sustainable and organic farming practices and carry a much expanded product range. Ever since our inception, we have remained deeply committed to the environment, which can be seen in every aspect of our company. Only the freshest and most natural ingredients are used in our products. Our stores are designed with natural wood backdrops and shelves. Our products' packaging is made from recyclable materials and we are continually looking for ways to reduce Lemongrass House's carbon footprint.
Lemongrass House UK
Kate and Ed Richards established Lemongrass House UK in 2018 on their return to Cornwall having spent the better part of a decade working as teachers throughout Asia. They fell in love with Lemongrass House products on their holiday trips to Phuket. A chance meeting with Bobby set in motion a series of events resulting in a change in career. Fast forward a few years to when Chantel joined the team and we are really excited to be Lemongrass House UK!
We love natural products and as nature lovers have seen first-hand the impact that humans are having on the environment throughout our travels. It is comforting to know that there are companies out there like Lemongrass House, who are doing their very best, not only to minimise their own impact on the environment, but to lead the way in educating others in sustainable practices.
Here is to the next chapter of the Lemongrass House story…